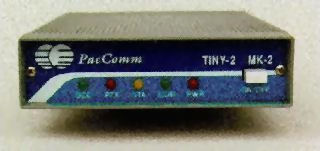 PACCOMM TINY 2 MK II FRONT SIDE
THE TINY-2 MK-II
Is a versatile platform with a built-in 1200 baud AFSK TNC. It is low priced, quality product, with a proven track record.
A GREAT FIRST TNC
Easy to use. Normal operation uses less than ten commands. PacComm's Personal Message System local mailbox with automatic forwarding features. GPS features included in standard model.
A NETWORK NODE
Works with ROSE, NET/ROM, TheNet and all TNC-2 type network EPROM's. TINY-2 may be upgraded to 9.8 MHz CPU clock speed for heavy channel use or for data speed of 9600 BPS or higher. Factory installed accessory modem header takes all PacComm and TAPR compatible modem cards. TINY-2 NODE model is supplied without an EPROM for user installed node firmware. Optional AD-4 Analog to Digital board for use with TheNet X1J firmware.
A GPS TRACKER TNC
APRS Amateur Packet Reporting System support features are standard. Places GPS location string into CText, LText, SText, etc. Will beacon location periodically. May be polled for position. Responds to APRS Queries. Available With Internal GPS Receiver. Switch From Using Your TINY-2 As A Regular TNC to a remote vehicle tracker by executing one command.
ADVANCED APPLICATIONS
WA8DED host mode. KISS mode for satellite and TCP/IP. Telemetry via RS-232 or TTL port. Packet communication for a weather node.
FEATURES
TNC-2 EPROM compatible Low power consumption:45 mA. 32 KB RAM. Over 13 KB Message Storage. Multi Colored LED's PWR Power, CON Connect, STA Status, Push To Talk PTT, Data Carrier Detect DCD. LED Message Waiting Indicator. 64 KB EPROM contains two images selected by rear panel switch. PacComm's Firmware. WA8DED Host Mode. Rugged extruded case 5 x 7 x 1 3/8 ins 130 x 180 x 35 mm. Grey epoxy finish. Weight 18 oz. 500 Gram. Both TTL level And RS-232 Level Serial Ports To Computer Or Terminal. Serial rates of 300 to 38.4 k baud, jumper selected. Comprehensive User's Manual, Command Reference Card, complete circuit schematics provided. All mating connectors provided. Power plug 2.1 mm. 5 pin DIN plug. RS-232 solder cup connector and hood. 8 pin in line connector provided for TTL connections.
OPTIONS AVAILABLE AT ADDITIONAL COST
64 KB memory expansion. Hardware clock accessory for time retention when power is off. AD 4 Analog to Digital conversion board for use with TheNet X1J. 10 MHz CPU speed. Faster CPU, SIO, and EPROM components. MC NB96 G3RUH DFM modem upgrade cards - 9600 or 19200 BPS.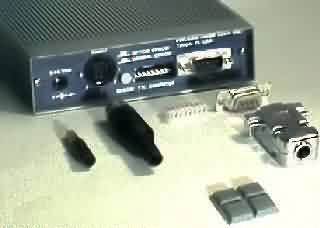 PACCOMM - TINY-2 MKII - BACK