HOMEPAGE

DSP 4100

DXP 38

FAX 4100

PK 96

MFJ 1278 B

PC 320

TINY 2 MK II

SYMEK TNC 21S

TNC 2H

TNC 31S

TNC 3S

WA4DSY

Webmasters


WWW.WEBCEO.COM


ACTIVE SEARCH RESULTS

CLICK HERE AND VOTE FOR
OUR FREE WEBSITE


UPC MORE POWER, MORE JOY
DOWNLOADS 200 MB
UPLOADS 10 MB



Webhosting And Domainnames
http://www.domeinbalie.nl
VIEW BEAUTIFUL ARTWORKS
---
THE WORLD OF FREE PACKET RADIO SOFTWARE IN AMSTERDAM
THE SYMEK TNC21S 1200 BAUD AFSK PACKET MODEM
---


THE SYMEK TNC 21S FRONT SIDE
TNC21S 1200 BAUD AFSK PACKET RADIO CONTROLLER
For Radio Amateurs and CB-Radio users, we offer a tiny, low cost Packet Radio Controller for the common 1200 Baud AFSK modulation. The Controller can be used with every FM-Radio CB, VHF, UHF and is simply connected to the speaker output and microphone input. The TNC21 works with every computer which has a RS232 serial interface. A Terminal Program for PC MS-DOS and Windows is included.


As The TNC21S Works With A Own Microprocessor, it can receive and store data and act as a digipeater even when the computer is off or when the terminal program is not active. As The TNC21S is Fully EPROM Compatible To All TNC2 Clones, Other EPROMS / Firmware Like TAPR, DRSI, SMACK, Net-ROM, WA8DED, TNN, Nord><Link Etc. Can Be Used. TNC21S is in use in thousands of amateur radio shacks and is also standard Packet Controller for CB 27 MHz However, there exists many commercial applications for the TNC21S as remote control, remote measuring and general wireless data exchange.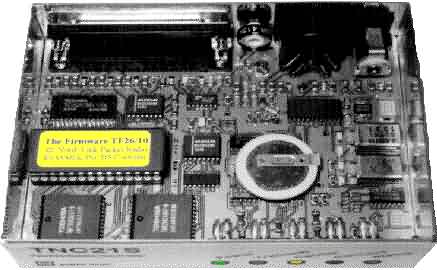 THE SYMEK TNC 21S INSIDE
TECHNICAL DATA OF THE SYMEK TNC 21S
Dimensions: 110 x 90 x 35 mm, weight 300g.

Reliable smd printed circuit board.

CPU: z80 cmos cpu and z80 cmos sio, clock 4.9 mhz, 32kb, 27C256 or 512 eprom on 28 pin dil socket, max691 super visory ic and battery switch, max232 rs232 interface.

Modem: tcm3105 afsk modem bell 202, quartz controlled, separate dcd circuit with xr2211 pll.

Radio Connection: 5-pin din

Connector: Speaker 0.2 volt to 10 volt, output 20 mv to 1 at 2 kohm adjustable, ptt switch with 20 s watchdog max 16 volt 0.1 A.

RS232 serial interface: 25 pin sub-d socket, baud rate 9600 baud internal jumpers for 1200 to 19200 baud.

Displays: 5 led's for power, transmit ptt, carrier dcd, connect con, status sta.

Power Supply: 12 volt dc 9 to 16 volt, 60 mA.

EMC: the TNC 21S is perfectly shielded by a double metal case.

All connections radio, rs232 and power are rf filtered by low pass filters to avoid any electro magnetic interferences with the radio.
MORE INFO ABOUT THE SYMEK PACKET RADIO MODEMS YOU CAN FIND HERE
THIS IS A WARNING FOR COPYRIGHT PROTECTED MATERIAL
All Rights Reserved. No part of this website or any of its contents may be reproduced, copied, modified or adapted, without the prior written consent of the author, unless otherwise indicated for stand-alone materials. You may share this website by any of the following means: Using any of the share icons at the bottom of each page Google Mail, Blogger, Twitter, Facebook, GoogleBuzz. Providing a back-link or the URL of the content you wish to disseminate; and you may quote extracts from the website with attribution to www.alwaysfree.nl. For any other mode of sharing, please contact the author at the email. Commercial use and distribution of the contents of the website is not allowed without express and prior written consent of the author.
THE WORLD OF FREE PACKET RADIO SOFTWARE IN AMSTERDAM


GET NOW 500 FREE BACKLINKS WITH PING AND AUTOMATIC CREATION.


NEED TARGETED VISITORS TO YOUR WEBSITE, GET 200 FREE VISITORS


FREE WEBSITE HOSTING IN UK WITH PHP AND MYSQL, WEBSITE BUILDER, NO ADS



SUBMIT YOUR WEBSITE TO THE TOP 50 OF THE BEST SEARCH ENGINES FOR FREE
The World of Free Packet Software in Amsterdam
---
The World of Free Packet Radio Software Amsterdam The Netherlands